BANDAR ABBAS HOMA HOTEL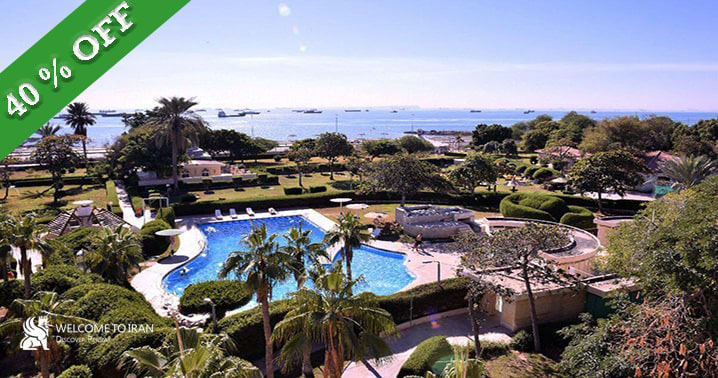 Grade:  :
Five Stars, Grade B
Address: :
 Me'raj St., Pasdaran Blvd., Bandar Abbas, Iran
Description:
Bandar Abbas Homa Hotel, five star and luxury hotel in Bandar Abbas, with modern architecture, in a quiet area next to the beach and the azure Persian Gulf, with beautiful nature around it are made the exquisite view of the blue sea combine with the green of garden in front of your eyes. This beautiful paradise in the sun dipped in water, has the best facilities, an outdoor swimming pool, located in the heart of green space to coastal coffee shops and restaurant beside the pool, and the more charming is its calming atmosphere which you will not find anywhere else in Iran. Each of the 187 rooms and luxury suites of hotel, with beautiful and unique landscape of the Persian Gulf have been equipped according to international standards for your comfort. They offer you sweet and memorable experience stay in the luxury hotel. The pleasure you never forget and always will wish to repeat it.
Bandar Abbas Homa Hotel with exceptional facilities to serve you at your meetings, coastal coffee shops, and beautiful interior corridor with elevator, private parking, conference rooms, computer and printer facilities within the hotel, free safety deposit box inside the room and reception, protection and security services, hot and fresh buffet breakfast, a quick settlement of reception, 24-hour room service, housekeeping, laundry service, hairdresser and providing banking services is ready to serve you.
Restaurants and coffee shops in this hotel are:
Starfish Restaurant: It is located in the garden and poolside with music resonate smoothly and gentle. 19 to 23 reception hours
Pearl Restaurant: for Iranian and foreign cuisine. 24 hours
Coral Coffee shop: It is 24 hours a day, serving hot and cold drinks and desserts, lovely and pleasant environment
Coast Coffee shop: It is located in the beautiful pavilions on the beach, with a view to pleasing evening sun. 19 to 23 reception hours
Businessmen often come to Bandar Abbas to watch over their cargo and sign contracts in the hugely profitable Iranian oil industry. Luxury accommodation is indispensable for satisfying such eminent visitors and Bandar Abbas boasts one of the finest branches of Homa Hotels for such a Herculean task. Homa Hotel of Bandar Abbas is the best 5-star hotel in the city. 187 rooms and wonderful suites of Bandar Abbas Homa Hotel render a fascinating view of the Persian Gulf with its magical sunset and pacific waters. But Bandar Abbas Homa Hotel isn't all about great view. It allows easy access to the dreamy islands of the Persian Gulf, Qeshm and Hormoz. As well as typical luxury facilities such as outdoor pool, sauna, jacuzzi, tennis court and gym, you can treat yourself to a refreshing icy beverage while relaxing in the shadows of colossal palm trees in Homa Hotel's expansive outdoor space. A seaside vacation isn't complete without trying the local sea food and the head chef of Bandar Abbas Homa Hotel will fulfill your longing for the local cuisine by serving the best local and international dishes in the city.
rate and comment
Service Include
FEATURES

Air Conditioning, Dry Cleaning/Laundry Service, Automated Teller Machine, Free Newspaper, Parking space around the Hotel, 24 Hour Room Service, Shopping Center, Parking Space in the Hotel
FOOD AND DRINKS

Coffee Shop, Outdoor Restaurant, Traditional Restaurant
CONFERENCE AND MEETINGS

SPORTS AND RECREATION

Tennis Court, Outdoor Swimming Pool