HAMADAN PERSIAN AZADI HOTEL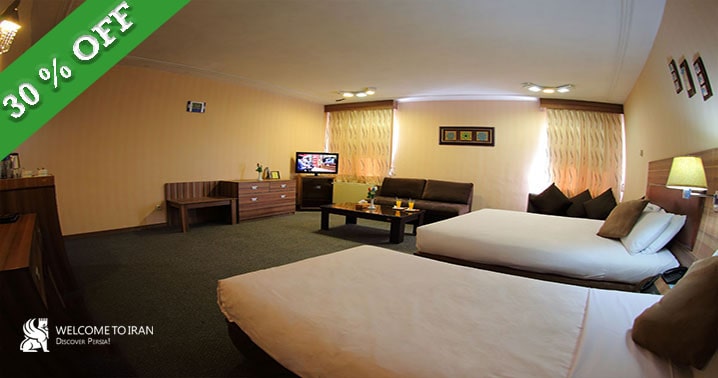 Grade: :
Four stars, grade C
Address:  :
Eram Blvd., Ghaem Square, Hamedan, Iran
Description:
Hamadan Parsian Azadi Hotel with a total of 45 rooms and classic and luxurious suites equipped with all amenities and communications' facilities. It has large conferences saloons in order to family and career gatherings with different capacities, seasonal and permanent luxury restaurants with international cuisine menus and young experienced staff. All of these are only part of what distinguishes it from other resorts and hotels in the Hamadan province.
Its location is in the proximity of the Eram park and Eram boulevard, less than one minute distance with the province's largest amusement park, large exhibition of holy defense, 5 minute distance with the scenic Abbas Abad hills and Ganjnameh waterfalls and inscriptions. There is easy access to numerous historical sites, attractions, academic and health centers of Hamadan. Another special privileges of Hamadan Azadi Hotel is ten minutes distance with the highest and longest cable car in province and Tarik Dareh (dark valley) ski resort.
Hamadan Azadi Hotel is located in Abbas Abad with the pleasant climate, and in providing guests with welfare services and facilities, this hotel is one of the best in Hamadan. Hamadan Azadi Hotel has a charming view and the location is outstanding. The guests can easily get to the city center. Situated in the verdurous hillside of Mount Alvand, a peaceful accommodation experience is guaranteed.
we stayed two nights at this 4 star hotel. we reserved a double room with view of mountain with nice view. The room was clean and the staff was wonderful…they welcomed us with cold traditional drinks that was so tasty. then bellboy guide us to the room. all the staff always replied us with warm smile. the breakfast are more than what we expect. it's variety and quality. the lunch and dinner buffet was good. the bed was pleasant but it was better to has a soft and hard pillow. they gave us a mug that our photo was printed on it. the hotel manager welcomed us warmly and his gift was a pottery. at all we had good times there.

Rauliii | TripAdvisor
Izmir Province, Turkey
rate and comment
Service Include
FEATURES

Free Newspaper, 24 Hour Room Service, Taxi Center, Elevator, Lobby, Parking Space in the Hotel, Coffee Net, Safety Box in Lobby, Praying Room
FOOD AND DRINKS

Restaurant in Hotel, Coffee Shop
CONFERENCE AND MEETINGS

Conference Hall, Banquet Hall
SPORTS AND RECREATION