IBIS (AXIS) HOTEL TEHRAN | INTERNATIONAL AIRPORT HOTEL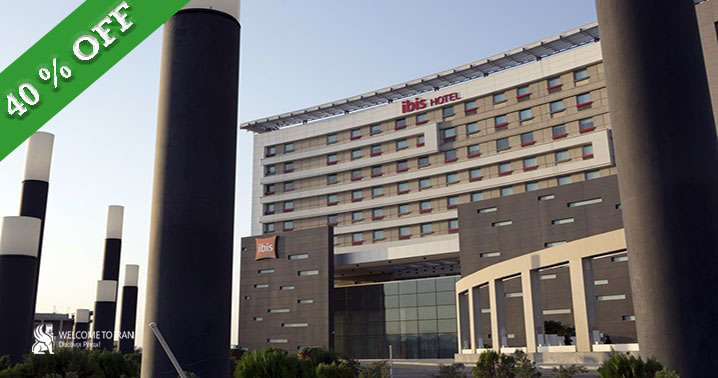 Grade: :
Four stars, grade A
Address: :
Southern Side of Imam Khomeini International Airport main expressway, 30 Km Khalij Fars Highway (Tehran-Qom Road), Tehran, Iran
Description:
The first group of International airport hotel in the country with the name of Axis (Ibis Hotel) (four stars) and Prime Axis (five stars) were opened at 1393 enjoying world up to date standards and near to main terminal of Imam Khomeini International airport.
Axis (Ibis Hotel) is a new and modern hotel near Imam Khomeini Airport, ideal for tourists who need instant access to the airport. Therefore, Ibis Hotel offers everything you need so you don't have to visit the city. Various restaurants, with the grill and pasta restaurant being the most popular, a café, shops, dry cleaning, barber shop, and a summer garden for when you want to go for a walk and relax. Ibis Hotel is 10 minutes away from Imam Khomeini Shrine.
Economy hotel for business and leisure. Visitors of Tehran, from business travelers to vacationers eager to explore Iran's capital city, are treated with the ultimate hospitality at the ibis Tehran Imam Khomeini International Airport hotel. Ibis Hotel friendly reception team greets guests 24 hours a day in an ideal location connected to the airport's main terminal. Downtown Tehran is a 45-minute drive away, and the comfort of home, from air conditioning to free WiFi, can be found in your room designed for your well-being and convenience.
I and my wife have spend here 1 night.
This is a clean, comfortable hotel, situated close to the Imam Khomeini International Airport. They provide a good free shuttle service to and from the airport. At the airport you can hire a taxi for fixed price to get the down-town. Very nice and quiet rooms, free wifi that works well. At first floor you can find 2 restaurants (traditional and modern). If you have a flight in the very early morning they provide the basic breakfast (restaurants are closed). The staff was very polite and friendly, all of them were thrilled to be of service to you during your stay. They kept smiling even at the very early morning which we really appreciated.
It is a perfect stop-over for the travellers who have flight next morning.
rate and comment
Service Include
FEATURES

High-speed Internet, Air Conditioning, Dry Cleaning/Laundry Service, Automated Teller Machine, Free Newspaper, Taxi Center, Elevator, Lobby, Parking Space in the Hotel, Coffee Net, Safety Box in Lobby, Currency Exchange, Praying Room
SPORTS AND RECREATION

Restaurant in Hotel, Coffee Shop