ISFAHAN KHAJOO HOTEL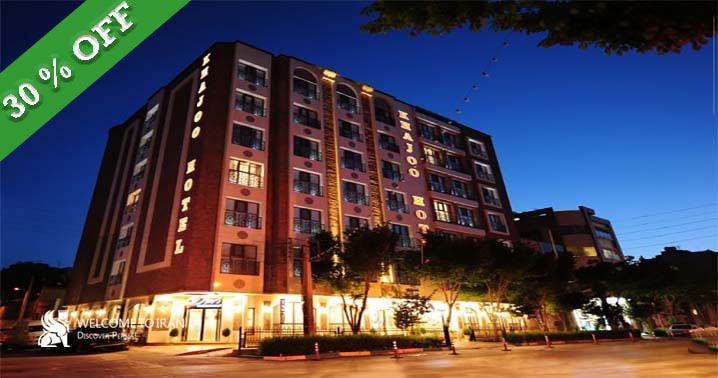 Address: :
Shohadaye Khajoo street, Chaharbagh Khajoo Street, Isfahan
Description:
Khajoo Hotel is one of the four star hotels in Isfahan, which was exploited in 2017. The hotel has 114 rooms and 246 beds in 6 floors with traditional architecture Iranian and modern.
This four-star hotel offers laundry services, high speed internet access, parking, spa services, a 24-hour front desk, free breakfast, and a 24-hour front desk. The 120-person hotel multi-purpose conference hall is the perfect choice for organizing ceremonies, conferences, diplomatic dinners, luxurious weddings, and formal and professional meetings. At Khaju Bam-e Hotel Restaurant, you can enjoy a variety of delicious cuisine accompanied by traditional live music and savor your breakfast in the classic restaurant. The hotel's coffee shop serves a variety of hot and cold drinks and a variety of cakes ready to serve the guests of this hotel. If you are looking to buy souvenirs from Isfahan handicraft, but you do not have much time, you can go to the hotel's handicraft booth.
For the convenience of travelers, this hotel has no separate smoking area and smoking is prohibited in all rooms and public areas of the hotel.
The Khaju Hotel is located in the heart of the historic texture and is in close proximity to the thirty-three bridges and the Khjoo Bridge. It offers convenient access to the most important sights of Isfahan, such as Eight Paradise, Nasheh Square, Chehel Sotun, and Najawan Park.
rate and comment
Service Include
FEATURES

High-speed Internet, Air Conditioning, Dry Cleaning/Laundry Service, Free Newspaper, 24 Hour Room Service, Taxi Center, Elevator, Lobby, Parking Space in the Hotel, Coffee Net, Handicrafts Shop, Safety Box in Lobby
FOOD AND DRINKS

Coffee Shop, Outdoor Restaurant
CONFERENCE AND MEETINGS

SPORTS AND RECREATION