LALEH KANDOVAN ROCKY HOTEL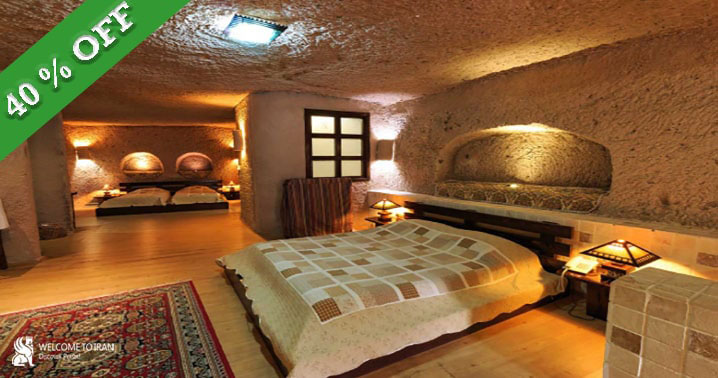 Location: :
East Azarbaijan
Address:  :
Kandovan Village, Oskou, Tabriz, Iran
Description:
Kandovan Laleh Hotel is the third rocky hotel in the world which has 40 Karaneh (natural stone room).It has currently 16 Karaneh in the first phase with jacuzzi and room service. These 16 Karaneh are included: 1 Imperial Suite, 2 Royal Suites, 3 junior suites with Jacuzzi, 6 small room with jacuzzi and 4 other rooms with bath. It should be noted that tap water of hotel is mineral water of Kandovan which is one of the best Iran's mineral water and is very useful for kidney disease.
Constructing of Laleh Kandovan Hotel Near Kandovan village around Tabriz which is the third rocky hotel in the world has provided the best conditions for presence of domestic and foreign tourists. The hotel has 40 Karaneh (natural stone room) with jacuzzi and audio-visual room service. In its first phase 10 Karaneh with restaurant and full equipment was opened.
All Karaneh have under-floor heating in the winter and in the summer because of pleasant weather air conditioning with Jacuzzi are worked and four other Karaneh have shower. Two Karaneh was added at the year 1392 to this collection. The view of this hotel is Castle and natural view of Hilevar village, and also Arshad mountain.
Before the hotel establishment, Kandovan village had been one of the unique attractions of the world and every year many tourists went there. Sugarloaf Village Kandovan old houses have the history of 700 years and matchless landscape. Having established boutique hotel, It enjoys different manifestation and encourage tourists to travel to the good climate in the country in the slope one of the most beautiful mountain ranges.
Its beautiful rocky restaurant, relaxing coffee shop and the only rocky hall in the world for holding meetings besides high-tech equipment for air conditioning and other welfare facilities have made Laleh Kandovan hotel one of the most agreeable for both local and foreigner guests. The hotel's location in the vicinity of the historic village of Kandovan, having a superb climate and clean air and finally a uniquely beautiful landscape have added to the beauty of this attractive hotel.
In Laleh Kandovan, Every room has fire alarm systems. All furniture, doors & windows were constructed from natural wood with protective layers. The furniture design was inspired from the simple village life and it is combined with wood & built in stone benches. Curtain & bed spread or mattress were prepared from traditional fabric.Inside the bathrooms, there are counters & even counter top basin made from natural stone & the taps were chosen from old style model that held the concept. Regarding Jacuzzi inside some cave suites adds to their attraction.
Let's be Shirin (mistress) for Farhad (lover) who started to engrave the heart of hard mountains many years ago…
Unbelievable hotel!
Very beautiful, good view, clean rooms, rooms with jacuzzi are very nice and it was a very good experience. I will try it again with my family. The only problem is the stairs. Because of the shape of hotel which os situated in the mountains it doesn't have elevator and you have to walk many stairs to your rooms but be sure that it worth it.
The most beautiful hotel I've ever seen.

Omid T – TripAdvisor
rate and comment
Service Include
FEATURES

FOOD AND DRINKS

Restaurant in Hotel, Coffee Shop
CONFERENCE AND MEETINGS