PARSIAN SAFAIYEH HOTEL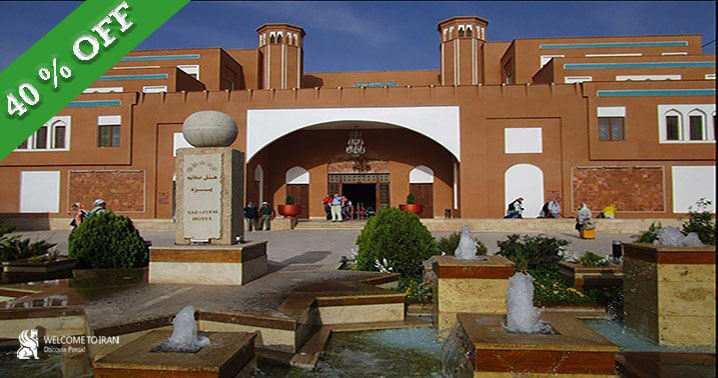 Grade: :
Five Stars, Grade A
Address:  :
Timsar Fallahi St., Abouzar Square, Safaeiyeh, Yazd, Iran
Description:
Yazd Parsian Safaiyeh Hotel is one of the most attractive hotels in Yazd and Iran. This hotel is built in a district of Yazd with the best climate, making it an attraction to the city as well. This hotel has done well in combining traditional culture and architecture with the modern one. Safaiyeh Hotel has two sections: the New Hotel and the Garden Hotel. The New Hotel was built in 2007, using modern standards while maintaining the traditional style consistent with Yazd's historical context. The Garden Hotel dates back to 1956 and it is called thus because of being located within a garden. This part of the hotel was rebuilt in 2013 and its facilities were made standard and up-to-date. This hotel has always been popular among people travelling to Yazd.
The Parsian Safaiyeh Hotel offers a high standard of quality apparent in the entire hotel furnished with all amenities. Consisting of two buildings, a newer and much more conservative this 5 stars is among the best hotels in the country, the only one to have a certified ISO 22000 and one of the few in the whole Iran to be a "green" hotel paying attention to save the environment.
At the front desk staff is available 24 hours on 24 and offers a wake-up service and telephone, exchange, bank service, laundry and taxis. The hotel offers a parking,a "business" floor with 4 conference rooms, a cafe/bistro offering snacks, a cozy wine bar/brasserie, a turkish bath, sauna, tennis courts and 2 restaurants.
rate and comment
Service Include
FEATURES

High-speed Internet, Air Conditioning, Business services, Dry Cleaning/Laundry Service, Automated Teller Machine, Free Newspaper, Parking space around the Hotel, 24 Hour Room Service, Shopping Center, Medical Services, Taxi Center, Elevator, Lobby, Barber Shop, Parking Space in the Hotel, Handicrafts Shop, Safety Box in Lobby, Children Playground, Praying Room
FOOD AND DRINKS

Restaurant in Hotel, Coffee Shop, Outdoor Restaurant, Fast Food Restaurant, Italian Restaurant
CONFERENCE AND MEETINGS

Conference Hall, Meeting Room, Banquet Hall
SPORTS AND RECREATION

Spa Services, Table Tennis, Fitness Gym