PERSIAN KOWSAR HOTEL TEHRAN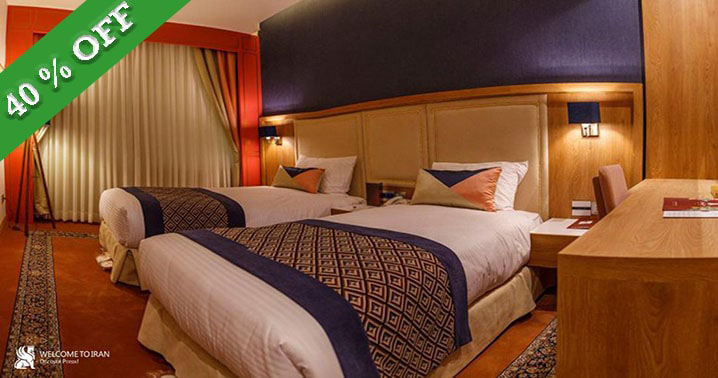 Grade: :
Four Stars, Grade B
Address:  :
Number 21, Shahid Molaee Alley, Valiasr Square, Tehran, Iran
Description:
Persian Kowsar Hotel Tehran with its half traditional architecture is one of the most charming four stars hotel in Tehran. The hotel is located in the heart of Tehran, near the Vali-e-Asr and with a beautiful view of the building and the traditional lobby, also with appropriate facilities, provides unique hospitality.
Nearness of Kowsar Hotel Tehran to the center of Tehran is a big privilege and one of the advantages of this hotel and guests in hotel Kowsar of Tehran can have easy access to landmarks, museums, shopping centers, office and entertainment centers. Kowsar Hotel Tehran has 95 two and three bedroom in 5 floors was opened in 1341 and has been reconstructed through several stages.  All rooms are elegantly furnished and include televisions, satellite, central video system, radio, fridge, air-conditioning, bathroom, hairdryer and telephones. If you want to spoil yourself after a long day the hotel also has a massager armchair.
Kowsar Hotel Tehran is on a cozy alley near Valiasr Square. So when you stay at Kowsar, you'll have access to main shopping centers, as well as metro and bus stations. This hotel is recommended to those who visit Tehran for shopping and to enjoy cultural events or on business or medical vacations. Valiasr, the most popular street of Tehran is at your walking distance, with lots of book stores, cafes, cinemas, and Laleh Park with the Museum of Contemporary Arts. Kowsar Hotel Tehran carious traditional and modern restaurants, sports center, swimming pool, sauna, and multi-function halls.
Centrally placed in a side street, near Meydan-e-Valiasr Metro stop and shops. Rooms are quiet, spacious and clean, everything works and staff are very helpful and friendly. The restaurant is adequate.

Janet C
Brixham, United Kingdom
rate and comment
Service Include
FEATURES

High-speed Internet, Air Conditioning, Business services, Dry Cleaning/Laundry Service, Automated Teller Machine, Free Newspaper, Parking space around the Hotel, 24 Hour Room Service, Taxi Center, Elevator, Lobby, Car Rentals, Barber Shop
FOOD AND DRINKS

Coffee Shop, Traditional Restaurant
CONFERENCE AND MEETINGS

Conference Hall, Meeting Room
SPORTS AND RECREATION