TABRIZ PARS ELGOLI HOTEL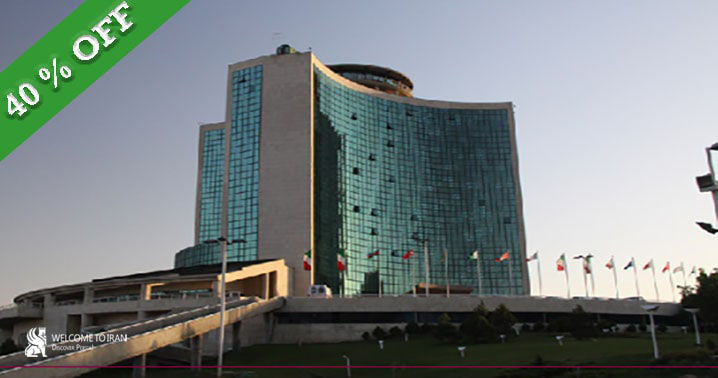 Location: :
East Azerbaijan
Address: :
ElGoli Str, Tabriz, Iran
Description:
Tabriz Pars Elgoli Hotel with a beautiful view of Tabriz is located in the highest place of Tabriz. Among the attractions near the hotel a
re Elgoli park and zoo, sleigh, Helia water park. This hotel has a revolving restaurant with 350 square meters and a unique view on the roof of Tabriz (highest place of Tabriz). During the years 1370-1371 Consulting Engineers Corporation started to design ElGoli Hotel, then constructing operation began in early 1374 in an area of 37,000 square meters and 28,000 square meters. After a six-years period it finished in Shahrivar 1380 and was opened in 29 Esfand 1380. The main tower of hotel has 17-store and a revolving restaurant.
The convenient location makes this exquisite hotel favorable with all types of travelers. The beautiful atrium style lobby with attentive staff hints at the delightful things to come. The ElGoli Hotel has a superb range of rooms that offer lavishness and comfort along with contemporary conveniences meeting all the expectations of its esteemed guests. Dine in gracious comfort in the various outlets, while enjoying your choice of cuisine. After a hectic and absorbing sightseeing trip of the historic Tabriz city relax and unwind in the pool, Jacuzzi or the sauna. The energetic can have a invigorating workout in the well equipped gymnasium. The excellent business center takes care of the business travelers. Experience a sense of personal sanctuary and style when staying in this hotel. The PARS HOTEL TABRIZ is a Tourist hotel. Located in City Outskirt area. Shopping is right next door and the nightlife/restaurants are located in the hotel.
Ninth floor room with a great view of the park. Stayed here with an American tour group so location was not an issue. You can hear your neighbors quite clearly thru the adjoining door but I don't speak Farsi! Lentils at breakfast were the best I've ever had and I've traveled the world. Great service. Room is superb. Super clean, great wifi in room. Bed very comfortable. A/C seems to work. Very impressive hotel. Have not seen pool yet but so far it exceeds my expectations. Very few tourists, but if you are American, don't be afraid to come here.

garlec – Tripadvisor
Portland, Oregon
rate and comment
Service Include
FEATURES

High-speed Internet, Baby Sitting Service, Dry Cleaning/Laundry Service, Taxi Center, Lobby
FOOD AND DRINKS

Restaurant in Hotel, Coffee Shop
CONFERENCE AND MEETINGS

SPORTS AND RECREATION

Spa Services, Indoor Swimming pool, Medical Services, Dry Sauna, Billiard Hall