TEHRAN NOVOTEL HOTEL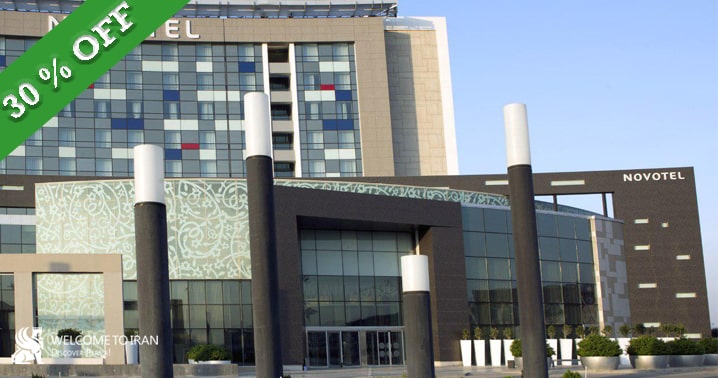 Address: :
Across from Terminal 1, south of main Boulevard, Persian Gulf Highway, Tehran
Description:
Novotel Hotel is located 30 km from Tehran and is a short distance from Imam Khomeini International Airport, which is connected to the airport by a bridge. This 5-star hotel is an example of modern hotels in Iran, with up to date services and facilities in accordance with hospitality standards. If you travel to Tehran by trade goals, Novotel hotel can be a good choice, because there are the services and equipment to holding a conference or administrative meetings. The hotel has 300 rooms, and the stylish and simple design inspires a peace of mind. It should be noted that four rooms with special amenities is dedicated to disabled people and services. Other services including 24-hour room service, a massage salon, a swimming pool, a gym, and free internet. In addition, restaurants and cafes of Novotel Hotel invite you to enjoy Iranian, non-Iranian cuisine and varied beverages in a friendly space.
rate and comment
Service Include
FEATURES

High-speed Internet, Air Conditioning, Medical Services, Taxi Center, Elevator, Lobby, Barber Shop, Hair Salon, Parking Space in the Hotel, Safety Box in Lobby, Currency Exchange, Children Playground, Praying Room, Dry Cleaning/Laundry Service, Automated Teller Machine, Free Breakfast, 24 Hour Room Service
FOOD AND DRINKS

Restaurant in Hotel, Coffee Shop, Traditional Restaurant
CONFERENCE AND MEETINGS

Conference Hall, Meeting Room, Banquet Hall
SPORTS AND RECREATION

Indoor Swimming pool, Jacuzzi, Spa Services, Dry Sauna, Steam Room, Fitness Gym