Persian lyric Poet Hafez-e Shirazi (1315-1390) grew up in Shiraz. Very little is known about his life. Many semi-miraculous mythical tales were woven around Hafez after his death. It is said that by listening to his father's recitations, Hafez had accomplished the task of learning the Quran by heart at an early age (that is the meaning of the word Hafez). At the same time, he is said to have known by heart the works of Rumi, Saadi, Farid ud-Din, and Nizami.
Let not the pious judge the meek;
Each for his own deeds will speak.
Whether I'm good or bad, you judge yourself;
You reap what you sow, find what you seek.
Everyone is seeking love, sober or drunk;
Everywhere a house of love, yet so unique.
I submit my head on the tavern's bricks,
If you don't understand, just take a peek.
Let me keep my hope of eternal grace,
Behind the veil, who is good, who the freak?
Not only I fell out of virtuous path,
My father too, treaded that path oblique.
Hafiz, on your deathbed, bring the cup to your cheek.
You go from the tavern straight to the heaven's peak.

Ghazal 80 | Hafiz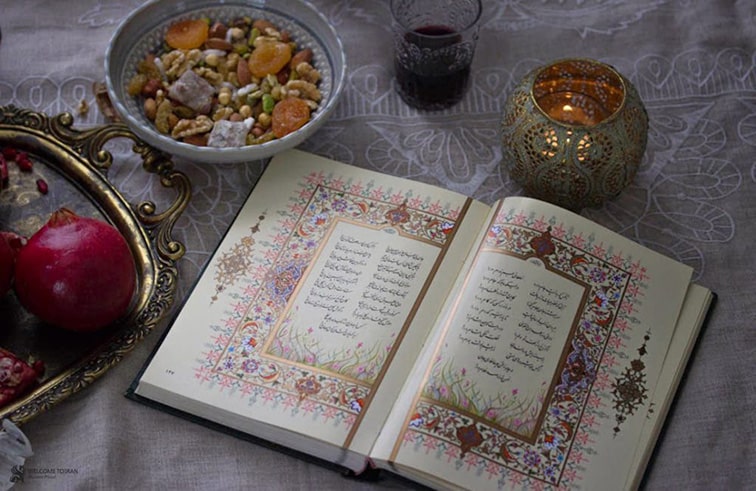 The Life of Hafez-e Shirazi
When his father died, he left school to work at a bakery and as a copyist. There, he first saw Shakh-e Nabat, a woman of great beauty, to whom some of his poems are addressed. Ravished by her beauty but knowing that his love for her would not be requited, he allegedly held his first mystic vigil in his desire to realize this union. Still, Hafez-e Shirazi encountered a being of surpassing beauty who identified himself as an angel, and his further attempts at union became mystic; a pursuit of spiritual union with the divine. A Western parallel is that of Dante and Beatrice.
Hafez-e Shirazi was a Persian poet whose collected works (The Divan) are regarded as a pinnacle of Persian literature and are to be found in the homes of most people in Iran, who learn his poems by heart and still use them as proverbs and sayings.His life and poems have been the subject of much analysis, commentary and interpretation, influencing post-14th century Persian writing more than any other author. Themes of his Ghazals are the beloved, faith, and exposing hypocrisy. His influence in the lives of Persian speakers can be found in "Hafez readings" and the frequent use of his poems in Persian traditional music, visual art, and Persian calligraphy. His tomb is visited often. Adaptations, imitations and translations of his poems exist in all major languages.
Though Hafez-e Shirazi is well known for his poetry, he is less commonly recognized for his intellectual and political contributions. A defining feature of Hafez' poetry is its ironic tone and the theme of hypocrisy, widely believed to be a critique of the religious and ruling establishments of the time. Persian satire developed during the 14th century, within the courts of the Mongol Period. In this period, Hafez and other notable early satirists, such as Ubayd Zakani, produced a body of work that has since become a template for the use of satire as a political device. Many of his critiques are believed to be targeted at the rule of Amir Mobarez Al-Din Mohammad, specifically, towards the disintegration of important public and private institutions. He was a Sufi Muslim.
His work, particularly his imaginative references to monasteries, convents, Shahneh, and muhtasib, ignored the religious taboos of his period, and he found humor in some of his society's religious doctrines. Employing humor polemically has since become a common practice in Iranian public discourse and Persian satire is now perhaps the de facto language of Iranian social commentary.
Goethe
The encounter of Goethe with Hafiz's ghazals became so inspiring to Goethe, that he produced his own West-östlicher Diwan and "led the way to the discovery of Persian poetry by the Romantics", according to Shusha Guppy. In the spring of 1814, Goethe received a German translation of Ḥāfeẓ's divān in two volumes from the publisher Cotta of Stuttgart. The translator was the Austrian Orientalist Joseph von Hammer-Purgstall (1774-1856), whose translations and commentaries played a major role in acquainting Germans with the East. Hammer's translation of the divān broadened and expanded the knowledge of the Orient which Goethe had acquired in his youth, so that he could now, at the age of 65, devote himself more intensively to the East, and predominantly to Persia.
At 60, he is said to have begun a Chilla-nashini, a 40-day-and-night vigil by sitting in a circle that he had drawn for himself. On the 40th day, he once again met with Zayn al-Attar on what is known to be their fortieth anniversary and was offered a cup of wine. It was there where he is said to have attained "Cosmic Consciousness". He hints at this episode in one of his verses in which he advises the reader to attain "clarity of wine" by letting it "sit for 40 days".
Hafiz's tomb is in Musalla Gardens, along the banks of Ruknabad river in Shiraz, which is referred to as Hafezieh.
Now please watch a clip of tomb of Hafez with a music of his poems by Mohammad Reza Shajarian, enjoy it !