KADUS GRAND HOTEL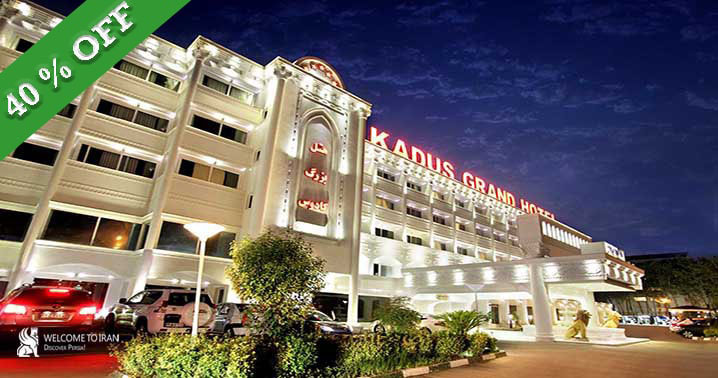 Grade: :
Five Stars, Grade A
Address:  :
Manzarieh, Aazadi Blvd., Rasht, Iran
Description:
Gilan Kadus Grand Hotel of Rasht Despite being established as early as 1983, Kadus Grand Hotel is undoubtedly the most charming hotel in Gilan and it is located in the best district of Rasht. The one of a kind architecture of this hotel has made it one of the attractions to the city of Rasht; nonetheless, in order to maintain comfort for the guests, it was renovated and repaired in 2012, keeping its special architectural features. As previously mentioned, Kadus Grand Hotel has got a very good location, and being situated in the city center makes it easy to have access to the airport and to the historical and recreational sites. The hotel is also in close proximity to other tourist cities in the north such as Astara, Bandar-e Anzali, Lahijan, Zibakenar, etc. and the travelers can easily go to and comeback from these other places.
Kadus Grand Hotel is situated in one of the best parts of Rasht City. Rasht is a best destination for those who intend to visit tourism attractions of Gilan Province such as Masal, Masuleh, Qaleh Rudkhan, Siahakal, Lahijan, Bandare Anzali, etc. It has 96 rooms and suites, a vast parking lot, kid's play park, four tennis courts, outdoor swimming pool, coffee shop, several restaurants, auditoriums, Wedding halls, internet service and satellite channels.
rate and comment
Service Include
FEATURES

High-speed Internet, Air Conditioning, Dry Cleaning/Laundry Service, Automated Teller Machine, Free Newspaper, Parking space around the Hotel, 24 Hour Room Service, Taxi Center, Elevator, Lobby, Parking Space in the Hotel, Water Complex, Praying Room
FOOD AND DRINKS

Outdoor Restaurant, Coffee Shop, Fast Food Restaurant, Traditional Restaurant
CONFERENCE AND MEETINGS

Meeting Room, Conference Hall, Banquet Hall
SPORTS AND RECREATION

Outdoor Swimming Pool, Table Tennis