KASHAN MAHINESTAN RAHEB HOTEL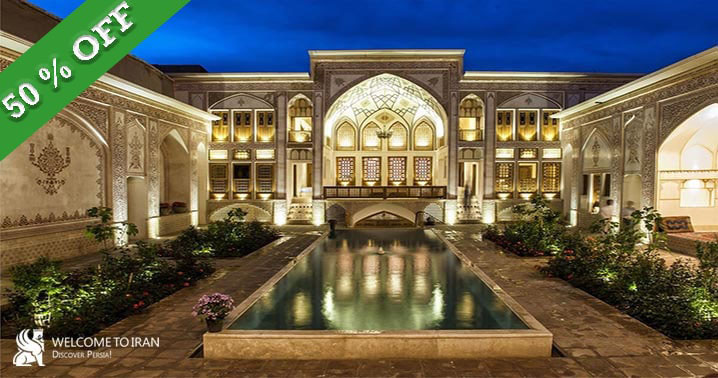 Address: :
31 Farhang Alley, Fazel Naraghi strret, Kamalolmolk Square, Kashan
Description:
Kashan Mahinestan Raheb Hotel is a magnificent house dating back to the Qajar era and one of the most unique Iranian architectures in Kashan. The house was listed on the national monuments in 2005 and was restored and is ready to host the guests in 2014.
The three inner and outer courtyards and the courtyard of the crew indicate that the owners were aristocratic. The garden and pool of the courtyard with original Iranian paintings on the walls provide a pleasant atmosphere to sit on the porch and enjoy it. From other Iran's architecture elements in hotel can be found Chamber, the entrance and windcatcher. Also, the alcove of Mahinastan Hotel is the masterpiece it, which you can choose to stay. Other rooms it is one, two, three and four boards.  Mahinastan hotel traditional Restaurant is a great place that offers delicious cuisine.
The beautiful city of Kashan has tourist attractions such as the Agha Bozog mosque, Tabatabai's house, Borujerdi's house, the Fin Garden etc. By staying in the Mahinestan for one night you can visit them all.
rate and comment
Service Include
FEATURES

Air Conditioning, Dry Cleaning, Laundry Service, Parking space around the Hotel, Library, Lobby, Handicrafts Shop, Traditional Bath, Safety Box in Lobby
FOOD AND DRINKS

Traditional Restaurant, Coffee Shop
CONFERENCE AND MEETINGS