KERMANSHAH LALEH BISTOON HOTEL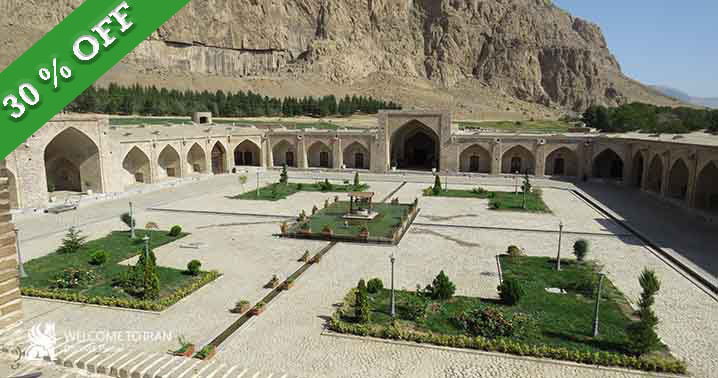 Address: :
Laleh Bisotun Hotel, Bisotun, Kermanshah, Iran
Description:
Kermanshah Laleh Bistoon Hotel is a mountain caravanserai of the Safavid period that was renovated in 2015 and used as a hotel. This is a five star hotel under the supervision of the Laleh chain hotel in 30 km from Kermanshah. The name of Bistuon has been repeatedly published in the books of history and literature. The mountain that narrates the love story of Farhad and Shirin. Nevertheless, the Laleh Kermanshah Hotel provides pleasure time for guests with modern and luxurious services but residing in such a hotel can be a unique feature of travel.
The hotel has 4 porches with suites and rooms around it and there is a large courtyard in the center too. When you open your window, you will have an exciting mountain landscape. In addition, you can use the hotel's restaurant and coffee shop to eat delicious food or drink. A conference room is also available for meeting. Attractions near the hotel include Sassanid palace, the old bridge, Safavid Caravanserai Bridge, Bisotun inscription, Khosrow Bridge, Parthian temple, Hercules statue, Taq Bostan and Ghar Sharkhian.
rate and comment
Service Include
FEATURES

High-speed Internet, Dry Cleaning/Laundry Service, 24- hour room service, Handicraft Shop
FOOD AND DRINKS

Traditional Restaurant, Coffee Shop
CONFERENCE AND MEETINGS