MASHHAD JAVAD HOTEL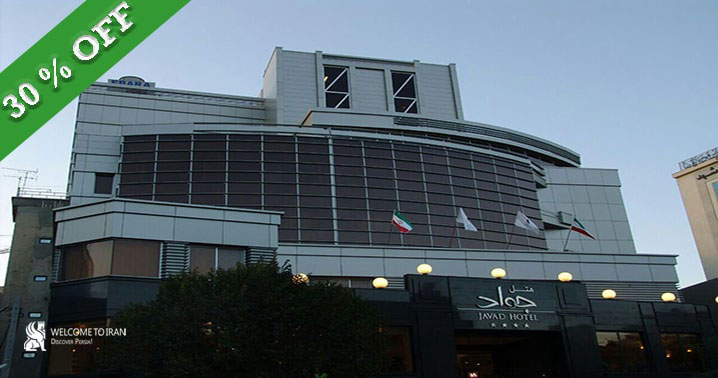 Grade:  :
Four Stars, Grade T
Location: :
Khorasan Razavi/Mashhad
Address:  :
Razavi Khorasan Province, Mashhad, Emam Reza Blvd, No. 44
Description:
On your next visit to Mashhad, Javad Hotel invites you to come and stay in its modern and well appointed rooms and suites and to dine at its fine restaurants. Javad Hotel is also equipped to expertly manage and hold your next banquet or meeting. You will find that Javad Hotel is a haven of comfort and convenience in the heart of Mashhad, just 10 minutes by foot to Imam Reza's Holy Shrine.
Javad Hotel's "Four Star Top" Rating
Attesting to its high level of service and amenities, Javad Hotel has been assigned the rating of "Four Star Top" by the International Tourism and Cultural Organization of Iran. This is the most prestigious of the Four Star categories. Javad Hotel takes pride in this accreditation and constantly strives to earn and surpass these high standards.
Javad Hotel's History and Mission
The new Javad Hotel is a continuation of a long tradition of quality accommodations provided by the Javad Hotel founder. With the comfort, well-being, and enjoyment of guests in mind, the founder of Javad Hotel dedicated the complete rebuilding and expansion of the original hotel to the pilgrims of Imam Reza. Believing that all visitors to Mashhad deserve excellence in service and well appointed accommodations during their stay, Javad Hotel's founder has tirelessly striven to realize this mission. The result is the new Javad Hotel. Sharing the vision of its founder, the entire staff at Javad Hotel is intent on making your stay a most pleasant one and the first of many to come.
Javad Hotel offers so much: the closest Four Star Top-rated rooms and suites to the Holy Shrine of Imam Reza, fine dining, a luxurious ambiance, impeccable service and modern amenities. Guests will find that the Javad Hotel is the best value for its convenient location and elegant accommodations.
Take advantage of all that Javad Hotel has to offer, especially when rooms and suites are attractively priced. For the most reasonable rates, book your room at the following off-peak times:
October through June (during the regular school year and excluding holidays)
The first days of the week: Friday thru Monday (excluding holidays)
Mashhad attracts the most visitors during the summer, the Iranian New Year holiday (mid-March through early April), and on all major Iranian holidays. Please plan your visit accordingly. Our convenient on-line booking will guide you or feel free to call, fax, or email Javad Hotel, where our courteous staff is ready to assist you in planning your stay.
rate and comment
Service Include
FEATURES

High-speed Internet, Air Conditioning, Dry Cleaning/Laundry Service, Automated Teller Machine, Free Newspaper, 24 Hour Room Service, Shopping Center, Steam Room, Taxi Center, Elevator, Lobby, Car Rentals, Parking Space in the Hotel, Coffee Net, Currency Exchange, Praying Room
FOOD AND DRINKS

Restaurant in Hotel, Coffee Shop, Fast Food Restaurant
CONFERENCE AND MEETINGS

SPORTS AND RECREATION

Fitness Gym, Jacuzzi, Dry Sauna