SANANDAJ SHADI HOTEL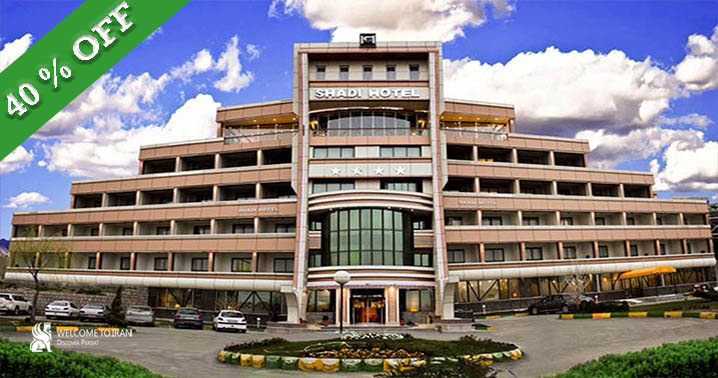 Grade:  :
Four Stars, Grade A
Address: :
Opposite University of Medical Sciences, Passdaran Street, Sanandaj
Description:
Sanandaj Shadi Hotel is located in the city gate of Sanandaj directed from Kermanshah, in the heights of the city. An outstanding feature to this hotel is the beautiful landscape overlooking the plains and the grassland. There's a handicraft fair in Shadi Hotel which makes it possible for the guests to buy souvenirs and hand-made traditional products. On the last floor of this hotel, there is a luxe restaurant with a charming view. Of the other pleasant features to this hotel, one can name the serving of special local food and bread. Despite being situated in the heights of the city, all historical and natural attractions such as the Sanandaj Museum, Moshir Divan Building, Kurd House, etc. are within easy access. The four-star Shadi hotel has 82 rooms and suites with capacity of 200 people is one of the best and biggest hotel in the city of Sanandaj in Kurdistan province. Proximity to downtown makes commute easy, which has helped the passengers. One of the most beautiful natural attractions that you can visit when staying at hotel are Gheshlagh bridge, Darol ehsan mosque, etc. This hotel provides full welfare facilities, right atmosphere for a pleasant stay. The restaurant on the top floor of the hotel has the best view and place to eat.
Shadi hotel of Sanandaj is the grandest hotel of Kordestan that include 28 room and suite with 200 person capacity, conference saloon with 120 person capacity and 3 hall in 1000 person capacity for ceremonies and weddings. The hotel is ready to host of the dear guests with facilities such as sauna, pool, Jacuzzi and gym.
This hotel is the best one in Sanandaj , the staff are friendly and you will always treated like a VIP , The location is good ,so you can enjoy the beautiful scenic and fresh weather , There are a wide rang of delicious food in the restaurant of Shadi hotel too.
SoranJourney | TripAdvisor
Tehran, Iran
rate and comment
Service Include
FEATURES

High-speed Internet, Air Conditioning, Dry Cleaning/Laundry Service, Free Newspaper, Parking space around the Hotel, 24 Hour Room Service, Taxi Center, Elevator, Lobby, Praying Room, Parking Space in the Hotel
FOOD AND DRINKS

Fast Food Restaurant, Traditional Restaurant, Coffee Shop, Outdoor Restaurant, Table Tennis
CONFERENCE AND MEETINGS

Meeting Room, Conference Hall, Banquet Hall
SPORTS AND RECREATION