SHIRAZ ZANDIYEH HOTEL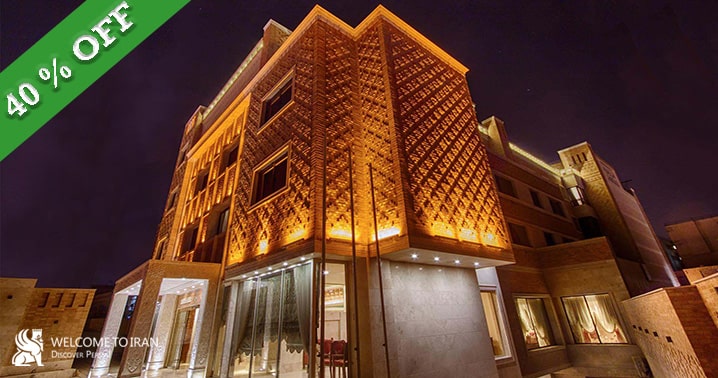 Address: :
Zandiyeh Hotel, Hejrat Ave, Shiraz
Description:
Shiraz Zandiyeh Hotel is located near Vakil historical complex. This hotel made in accordance with five-star hotel and offers luxury services. However, the hotel has a traditional design and induces a pleasant and soothing atmosphere. In keeping with the customs, the hotel has a traditional bath and displays Iranian rituals. Zandiyeh Hotel offers a variety of rooms and satisfies gusts needs. If you have business trip, we offer to use Business Suite with all the required facilities. If you are a newly married couple, and have chosen Shiraz as your honeymoon destination, use Zandiyeh's honeymoon room and create unforgettable days. The luxury suites and rooms with a variety of decoration are ready to provide guest stay services. Other hotel sections include a conference hall, sport and water complexes, handicraft stall, a cafe and restaurants. In classic and traditional restaurants with different architectures, you are going to have a varies menu of non-traditional and traditional cuisine.
rate and comment
Service Include
FEATURES

High-speed Internet, Air Conditioning, Business services, Dry Cleaning/Laundry Service, Automated Teller Machine, Free Breakfast, Parking space around the Hotel, 24 Hour Room Service, Elevator , Taxi Center, Lobby, Parking Space in the Hotel, Handicrafts Shop, Traditional Bath, Safety Box in Lobby, Currency Exchange, Praying Room
FOOD AND DRINKS

Coffee Shop, Outdoor Restaurant, Traditional Restaurant
CONFERENCE AND MEETINGS

Conference Hall, Meeting Room, Banquet Hall
SPORTS AND RECREATION

Indoor Swimming pool, Spa Services, Jacuzzi, Dry Sauna, Steam Room, Rooms with Jacuzzi, Fitness Gym