TEHRAN ESPINAS PERSIAN GULF HOTEL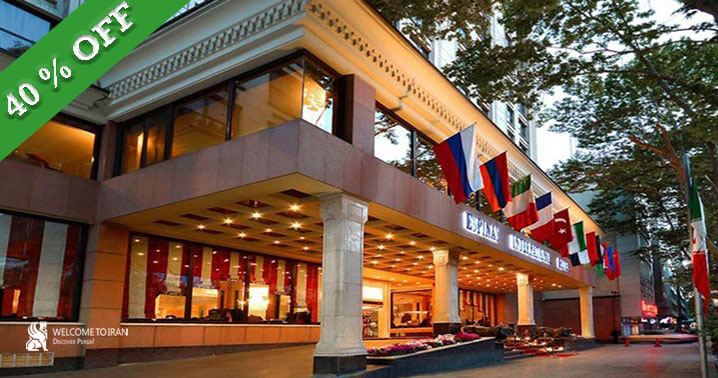 Grade: :
Five stars, grade A
Address:  :
Number 126, between Naderi St. and Felestin St., Keshavars Blvd., Tehran, Iran
Description:
Tehran Espinas Persian Gulf Hotel is located in one the most nostalgic boulevards of the older Tehran: Keshavarz Boulevard, Espinas Hotel is luxurious and modern, just take a step through the entrance and be embraced by the VIP feel of the hotel. Espinas Hotel is a newly built hotel with various amenities to help you relax. When you open a hotel it's all about three things: Location, Location, Location, and where can you experience the life of everyday Tehran better than at its heart? Laleh Park and Tehran Museum of Contemporary Arts, The Museum of Persian Carpets, Valiasr Square with all its shopping centres, Karimkhan and Enqelab Streets with their book stores and cafes will all be a short walk away.
Experience comfort and peace by modern facilities in this hotel as following:
224 accommodation units, including luxury and modern suites with the best temperature control systems, audio and video systems, LCD television, phone, high-speed wireless Internet and access in satellite news channel, central air conditioning system, the most possible modern facilities in order to hold celebrations, seminars and international conferences in the magnificent and sumptuous halls, varied and delicious international food with good service in French, Thai, Mediterranean and traditional restaurants, a well equipped health and fitness centers, magnificent and luxurious lobby with coffee shops, live music and great vision, focus and accuracy in providing good service for guests, the best and biggest private parking for all guests and users of services Hotel Espinas. The café looks over the old trees of Keshavarz. The Fitness Centre is a favourite with its gym, swimming pool, sauna, and message parlour. All that topped with the polite and warm staff, make Espinas an attractive choice.
rate and comment
Service Include
FEATURES

High-speed Internet, Air Conditioning, Dry Cleaning/Laundry Service, Automated Teller Machine, 24 Hour Room Service, Taxi Center, Elevator, Lobby, Barber Shop,  Parking Space in the Hotel, Praying Room
FOOD AND DRINKS

Coffee Shop, Mediterranean Restaurant, Traditional Restaurant 
CONFERENCE AND MEETINGS

Conference Hall, Meeting Room, Banquet Hall
SPORTS AND RECREATION

Indoor Swimming pool, Jacuzzi, Dry Sauna, Steam Room