TEHRAN FERDOWSI INTERNATIONAL GRAND HOTEL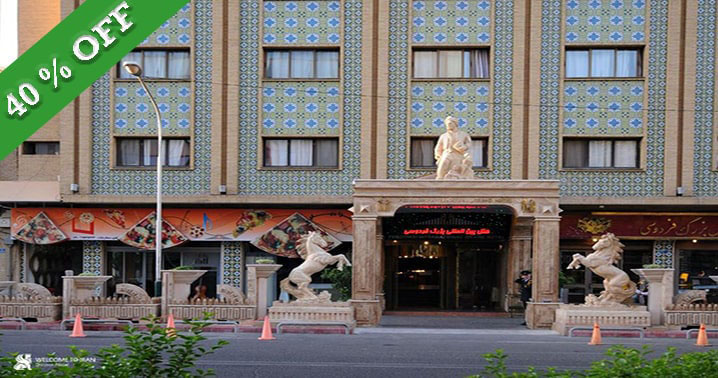 Grade: :
Four stars, Grade T
Address:  :
Number 24, Koushk Mesri St., Ferdowsi St., Imam Khomeini Square, Tehran, Iran
Description:
Tehran Ferdowsi International Grand Hotel has it all: cozy rooms, traditional restaurant with delicious Persian dishes, and a confectionary. Top that with a great location: close to Imam Khomeini Square and lots of historical landmarks of Tehran. You can take a walk to the Grand Bazaar and visit various museums on the way: Ancient Iran, Abgineh, Coins, Jewelry, Golestan Palace, and Tehran Gate (Bagh Melli). The central metro station, Ferdowsi Square, Enqelab street, and shopping centers are all located at a short distance from the hotel. Ferdowsi Hotel has a large swimming pool and sauna, tiled in the traditional Iranian style with a beautiful aquarium.
Ferdowsi Hotel is established in 22,000 square meters and regularly is under expansion, reconstruction and modernization. Right now the hotel has a variety of traditional, Persian, western restaurants, and buffet, various banquet celebration halls, modern conference hall, swimming pool and sports and entertainment complex, high-speed wireless internet (Wi-Fi) and vertical parking. It is provided a privileged position in the country's hotel industry.
The 6th-floor rooms will appeal to those with super-kitsch taste in style. There's also a lively Iranian restaurant in the basement with live music.
This is on one of the top hotels in Tehran, and quite deservedly so. The staff was very kind and supportive (but you will get that all over Iran – their hospitality is just amazing). The location was extremely convenient: the incredible Jewellery Museum (National Bank) is just up the street, the Islamic Museum is around the corner, the Bazaar and the Golestan Palace are 15-20 minutes walk away, a major underground station is just one block away etc.
We got a good, clean and spacious room down a rather spookily decorated, Twin Peaks-inspired hallway 

Victor_procure | TripAdvisor
Bucharest, Romania
rate and comment
Service Include
FEATURES

High-speed Internet, Air Conditioning, Dry Cleaning/Laundry Service, Automated Teller Machine, 24 Hour Room Service, Taxi Center, Elevator, Lobby, Barber Shop,  Parking Space in the Hotel, Praying Room
FOOD AND DRINKS

Coffee Shop, Fast Food Restaurant, Traditional Restaurant
CONFERENCE AND MEETINGS

Conference Hall, Meeting Room, Banquet Hall
SPORTS AND RECREATION

Indoor Swimming pool, Jacuzzi, Dry Sauna, Steam Room, Rooms with Jacuzzi, Fitness Gym