TEHRAN LALEH INTERNATIONAL HOTEL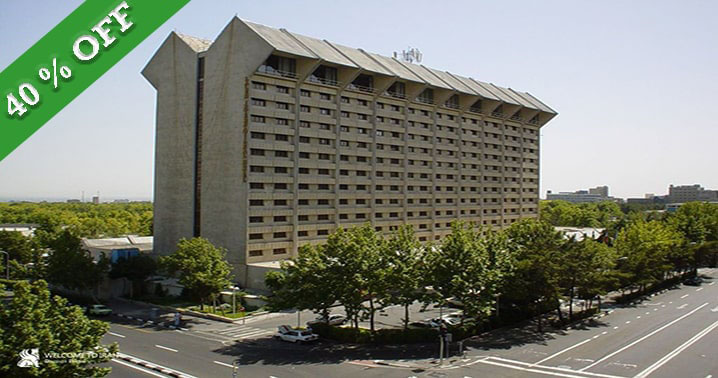 Grade: :
Five Stars, Grade T
Address:  :
Hijab St., Fatemi St., Tehran, Iran
Description:
Laleh Tehran hotel is located in Laleh Park, at the north-eastern corner of Bagh-e Laleh, close to the Carpet Museum and a short drive from the museums of the city center. Once the Inter Continental, this 5-star property offers some of Tehran's best rooms with views of Mount Damavand, Alborz and the city. The 380 air-conditioned guestrooms and suites are equipped with all the modern facilities you would expect, such as a private bathroom, satellite television, minibar and 24-hour room service.
There are four restaurants serving buffet meals, French, Far Eastern and Persian cuisine. Other facilities include a bookshop, business center and a swimming pool, however, please note that women are not permitted to use the swimming pool. Because of hotel's location, you have an easy access to highways, shopping centers, Mehrabad and Imam Khomeini Airport, city center, and governmental offices. Laleh Tehran hotel 5 star is one of the luxurious hotels in the capital of Iran which provides a comfortable stay with a high quality of facilities. You should enjoy relaxing massage, amazing swimming pool with sauna, jacuzzi and fully equipped gym at Laleh Tehran hotel. Also, there are billiard room, Ping-Pong, and football for who loves in these sports facilities. Conferences and ceremonies halls of Laleh international hotel are so suitable for your events with luxurious design.
In general, because of facilities and location, Laleh Tehran hotel could be the best choice for business travelers, families and tourists. Those travelers who would like to experience more about Tehran museums, Tehran grand bazaar and city center of Tehran.
History of Laleh Tehran Hotel
The name of "Laleh international hotel group ", derived from the name of Tehran's Laleh International Hotel which is 5 star. This group of hotels are under the Tourism Development Corporation of Iran and started its work by opening Tehran's Laleh International Hotel since 1349. Then it progresses its activity gradually in the seventies and eighties by its chain as a coherent group in the form of 4 hotels and a hydrotherapy complex in various Iranian cities. The activity of this hotel group made a chain of outstanding hotels aimed at the development and improvement of customer-oriented service and the revival of tourism capacities and capabilities of honored Iran.
"Laleh International Hotel Group" with the participation of 5 members of the best hotels in Iran, can allocate a special position in the Tourism and Hospitality industry inside and outside the country for itself.
rate and comment
Service Include
FEATURES

High-speed Internet, Air Conditioning, Dry Cleaning/Laundry Service, Automated Teller Machine, Free Newspaper, Parking space around the Hotel, 24 Hour Room Service, Shopping Center, Medical Services, Taxi Center, Elevator, Lobby, Barber Shop, Parking Space in the Hotel, Coffee Net, Safety Box in Lobby, Praying Room, Handicrafts Shop
FOOD AND DRINKS

Outdoor Restaurant, Coffee Shop, French Restaurant, Traditional Restaurant, Chinese Restaurant
CONFERENCE AND MEETINGS

Conference Hall, Meeting Room, Banquet Hall
SPORTS AND RECREATION

Spa Services, Billiard Hall, Fitness Gym