TEHRAN OLYMPIC HOTEL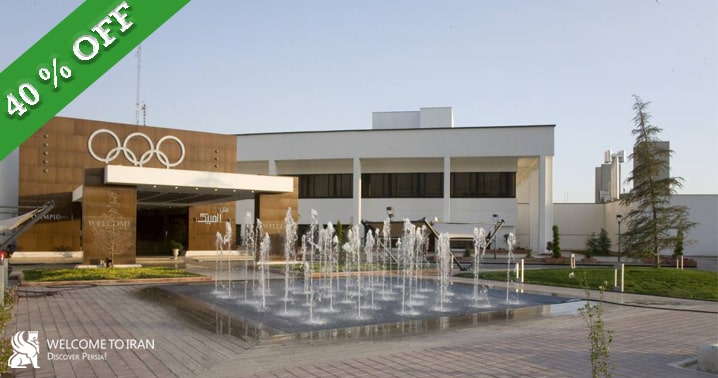 Address: :
Dehkadeh Boulevard, West of Azadi Stadium, Tehran
Description:
Tehran Olympic Hotel is located next to Azadi Sport Complex, overlooks Chitgar Forest Park and close to Persian Gulf Lake. Because of geographic location, fresh air and farness of Tehran traffic, many people especially athletes choose this hotel to stay. Nevertheless, the hotel has good access to the city center and public transportation. Therefore, by focusing on the guest market, it has been tried to provide functional and comprehensive spaces. These services include holding conferences, seminars, ceremonies, exhibitions, training classes and sports services. Restaurants and the halls with a varied menu and delicious cuisine cater to you. In addition, there are welfare services such as business services, a bank, a handicraft shop, a barbershop, a confectionary and a clinic, so everything is generally provided to a comfortable and memorable stay. Olympic Hotel accommodation units are in the royal and duplex suites form with luxury and professional design it inspires relaxation.
rate and comment
Service Include
FEATURES

High-speed Internet, Air Conditioning, Medical Services, Taxi Center, Elevator, Lobby, Barber Shop, Parking Space in the Hotel, Coffee Net, Handicrafts Shop, Traditional Bath, Praying Room, Business services, Dry Cleaning/Laundry Service, Automated Teller Machine, Free Breakfast, 24 Hour Room Service, Confectionary, Clinic, Travel Agency
FOOD AND DRINKS

Coffee Shop, Restaurant in Hotel, Traditional Restaurant
CONFERENCE AND MEETINGS

Conference Hall, Meeting Room, Banquet Hall
SPORTS AND RECREATION

Indoor Swimming pool, Jacuzzi, Dry Sauna, Steam Room, Billiard Hall, Fitness Gym, Football Pitch