TEHRAN PERSIAN ENGHELAB HOTEL (ROYAL GARDEN)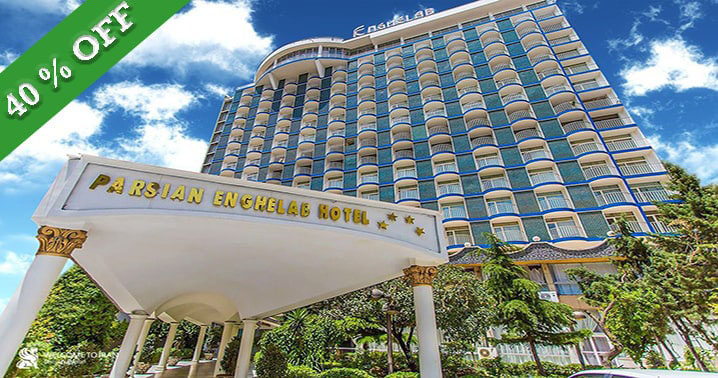 Grade: :
Four stars, grade A
Address:  :
Number 341, between Valiasr St. and Hafez St., Taleqani St., Tehran, Iran
Description:
If you want to be in the older parts of Tehran, and close to shopping centers, historical and cultural attractions, and organization, Enghelab Hotel is a good choice. With over 40 years of experience, Enghelab Hotel was owned by Royal Garden Hotels, still hosting with the same level of care. You can enjoy Tehran by walking on the Valisr street, towards south to enjoy the Tehran Theatre, Daneshjoo Park, Book stores, and cafes, or walk up north to get to Qods and Esteghlal Cinemas, and enjoy a walk in Keshavarz Boulevard. Aside from good access to all these attractions, Enghelab Hotel has the first rotating restaurant of Tehran. Although there are taller building around the hotel now, you still get a great view of the city when dinning at Enghelab Hotel.
This 4-star accommodation is located on Taleghani Avenue between Valiasr Avenue and Hafiz Street in the capital city of Iran. Enghelab Hotel has 223 single rooms and 223 double rooms plus 25 small and large suites to stay in overnight. The views of the city of Tehran is marvelous from inside the rooms, and all the rooms are equipped with luxury furniture and appliances to serve the guests in the best way possible. The staff of this fabulous hotel speak very well English and the hotel rooms are designed and decorated so beautifully you will really enjoy staying there inside the rooms and the tranquil atmosphere it gives you. One of the fascinating aspects of this accommodation is its restaurants. Enghelab Hotel has three nice and large restaurant offering its guests a variety of delicious local and foreign foods. Its rotatory restaurant is the most interesting of all and has the capacity of seating nearly 200 guests on the southern part of this hotel and it is appropriate for holding ceremonies, banquets and family gatherings.Another restaurant of this hotel which is called Narvan Restaurant and is located on 16th floor has the capacity of welcoming 180 guests, and is in fact, the first revolving restaurant in Iran. This restaurant besides serving delicious dishes, entertains the guests by giving them an amusingly nice view of the grand city of Tehran. The third restaurant in Enghelab Hotel is called Parse Restaurant and 24 hours food is served in this restaurant which has the capacity of 120 guests. It is located on the ground floor and it has some of the most experienced personnel in the city. Moreover, this accommodation has amenities such as roofed and not roofed pools, sauna and Jacuzzi, along with a well-equipped gym for body builders and the ordinary people to keep fit during their travel.
rate and comment
Service Include
FEATURES

High-speed Internet, Business services, Dry Cleaning/Laundry Service, Automated Teller Machine, Parking space around the Hotel, 24 Hour Room Service, Shopping Center, Taxi Center, Elevator, Lobby, Barber Shop, Parking Space in the Hotel, Transfer from Hotel to Airport, Handicrafts Shop, Currency Exchange, Praying Room
FOOD AND DRINKS

Indoor Swimming pool, Outdoor Restaurant, Restaurant in Hotel, Coffee Shop, Arabian Restaurant
CONFERENCE AND MEETINGS

Conference Hall, Meeting Room, Banquet Hall
SPORTS AND RECREATION

Jacuzzi, Tennis Court, Dry Sauna, Steam Room, Children Playground