YAZD DAD HOTEL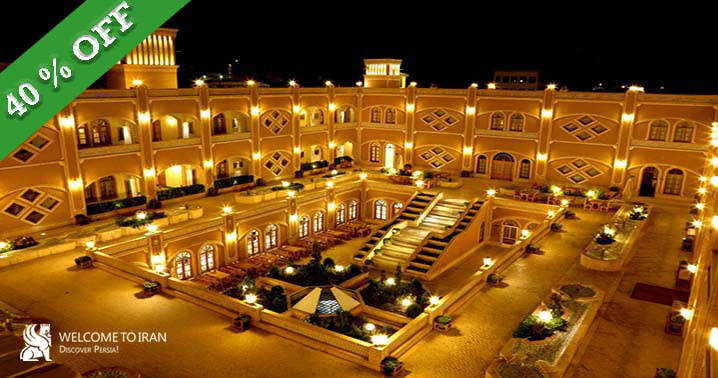 Address: :
Number 214, 10th farvardin Street, Shahid Beheshti Square, Yazd
Description:
The Yazd Dad 4 star hotel was established by Abdul Khalegh Dad about 80 years ago in 1928, with the use of the courier and guest house, and was used until 1993. Then he was rebuilt in 2001 and turned into a four-star hotel next year.
The architecture of the hotel takes you to the same time which this place used for trade and rest of the tradespeople and caravans. Combining this architecture with the modern hospitality industry, being close to Yazd city sights and being in the center of the traditional and historical context of the city, all can convince every guest to stay in Dad Hotel in the land of delicious pastries.
The traditional hotel has 88 bedrooms, including one-to-four-bed rooms and double suites and four suites. These rooms cover the central courtyard with a wide ridge of flowers. Hotel winders that used to be used to ventilate and cool the interior of the building were added to the hotel's visual appeal today. The pleasant lighting of this hotel gives guests a pleasant atmosphere at night. The hotel's courtyard, which is one floor below the street, has become a traditional restaurant with a flat. The hotel is located near the Zoroastrian Temple and the Amir Chakhmaqq complex of Yazd, and within a short time you can access other attractions in this beautiful city.
rate and comment
Service Include
FEATURES

Air Conditioning, Dry Cleaning/Laundry Service, Automated Teller Machine, Taxi Center, Elevator, Lobby, Parking Space in the Hotel, Safety Box in Lobby, Praying Room
FOOD AND DRINKS

Restaurant in Hotel, Coffee Shop, Outdoor Restaurant, Gallery Café
CONFERENCE AND MEETINGS

SPORTS AND RECREATION

Indoor Swimming pool, Jacuzzi, Dry Sauna, Steam Room