YAZD MOSHIR AL-MAMALEK GARDEN HOTEL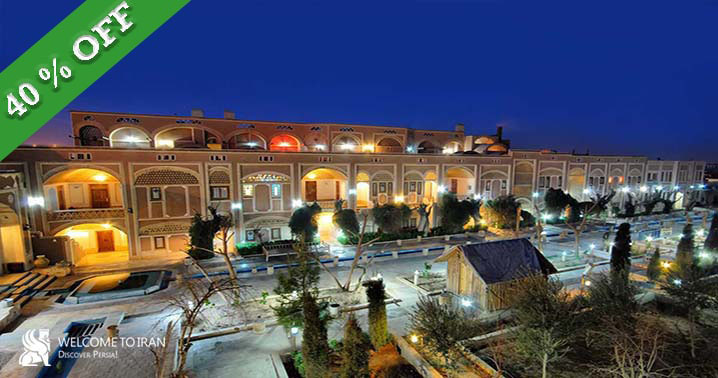 Address: :
Bagh Moshir Garden Hotel, Enghelab Street, Moshir Boulevard, Yazd
Description:
The Yazd Moshir al-Mamalek Garden Hotel is the first Iranian garden-hotel built by Mirza Fathollah Moshiralmmalek in Qajar dynasty. This hotel is a historic home with an Iranian garden which present pleasant atmosphere and takes you to Iranian homes during the Qajar period. All sections of the hotel are adapted with desert climate. It listed in the Iran National Monuments List.
The Moshir al- Mamalek Garden Hotel has a total of 80 non-smoking units with a unique architecture and decoration, featuring single-to-four-board, triple-and-five suite suites. Despite this traditional space, all the facilities of this hotel and its rooms are in accordance with the latest standards of hotel management and the facilities of these rooms will feel satisfied.
The garden restaurant is located on the garden floor and you can enjoy the view from the landscape of the trees in the garden. In the paintings restaurant, you will enjoy watching the wall paintings and the ceilings made with the traditional architecture, and you will also taste delicious Iranian cuisine in Yazd's restaurant. This hotel is close to Amir Chakhmaq Square, Zoroastrian Temple, Amir Kabir Mosque, Yazd, and Yaman Bath Khan.
rate and comment
Service Include
FEATURES

High-speed Internet, Air Conditioning, Dry Cleaning/Laundry Service, Automated Teller Machine, Free Newspaper, 24 Hour Room Service, Taxi Center, Lobby, Fast Food Restaurant, Traditional Restaurant, Italian Restaurant, Parking Space in the Hotel, Handicrafts Shop, Safety Box in Lobby, Praying Room
FOOD AND DRINKS

Restaurant in Hotel, Coffee Shop, Outdoor Restaurant
CONFERENCE AND MEETINGS

Conference Hall, Meeting Room. Banquet Hall
SPORTS AND RECREATION