Ingredients:
Dough Tarkhineh: Four modules
Onion: One number (big size)
Oil: A little only for fry (onion, mint, garlic, mint)
Soup vegetables: Half a kilogram
Lentil: Two modules
Salt, Turmeric, Balck Pepper: Necessary amount
Curd: Necessary amount
Mint and Hot Garlic: If you want
Qarqorout: Only a little
(Serve for 4-5 people)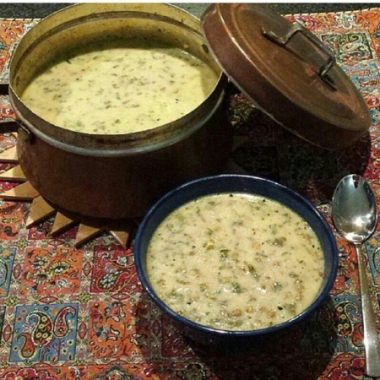 How to prepare Dough Tarkhineh Soup?
Bake lentil separately and put it aside.
Put Tarkhineh in the dish and pour cold water on it until its Grains that they stick together break apart from each other. (do this step in the pot that you consider for baking soup)
Fry onion in oil and let it come to be in golden colour after that add little Turmeric to it.
Add Tarkhineh with water, soup vegetables, salt and pepper to the soup. Make the heat under pot low and wait until soup vegetables prepare.
Now add baked lentil and Qarqorout to the soup and wait until your food prepare.
At the end add a little curd to the soup.
In the time of serving you can decorate your soup with curd, hot garlic, hot onion and hot mint.