This park that until before regulation called Farah Park is one of the biggest parks of whole Tehran. This park established based on Farah request from the King. Before that this place was Military zone and used for equestrian and Parade and it was called Jalalieh garden. The area of the park is about 35 hectares. In one park different kinds of plants are available such as Sycamore, Acacia, and Pine.
Tehran Laleh park lands were for the Military from the past. This land is famous for the Jalalieh hours riding and it was used for the parade. Army was transferred land instead of claims the ministry of Finance to that ministry. The ministry of the prosperity of housing of time had the mission of that for making the design for this region. The Northern part of the park consider for the Public cultural facilities and the Southern part of the park consider to be only as the Park. The design of this is from the famous French designer Mr. "Zhufeh" and the other collogues of this fields and Iranian designers. Other operations were the municipality responsibility.
Municipality were based on the design continued the job till Farah park established in 1345. After that, in February of 1357, the name of the Park changed to Laleh park.
The first buildings of children's library in Iran were made in a part of park land of Farah by the Institute for the Intellectual Development of Children and Young Adults.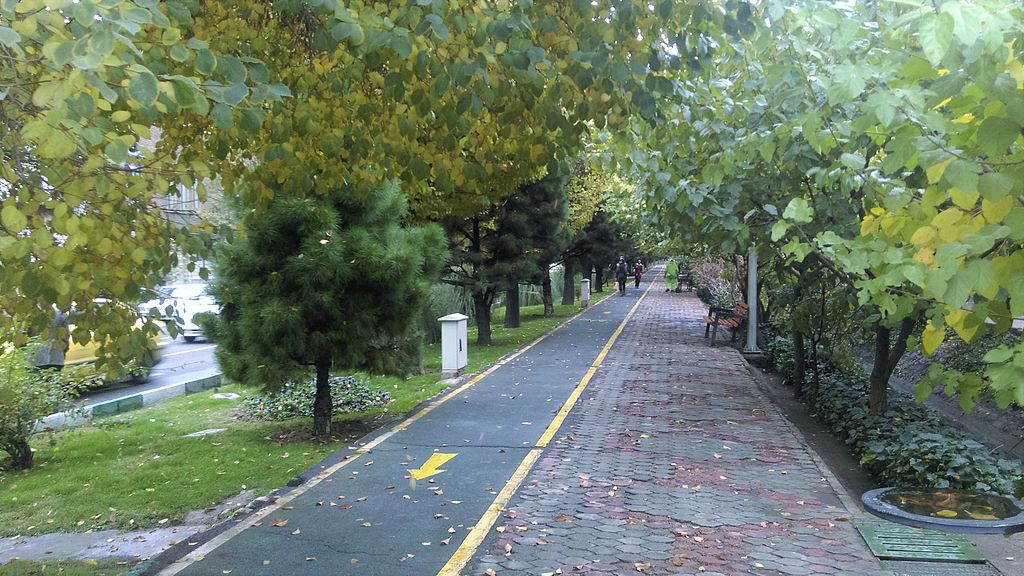 Geographical location
This park is located within the scope of the 6th municipality of Tehran and in the neighborhood of Amirabad. The park is limited from the North to the Fatemi street, South Keshavarz Blvd., from West to North Kargar Avenue (Amirabad Street), and from the East to the veil street. In the neighborhood of  this park  Laleh Shopping Center, Contemporary Art Museum , Carpet Museum of  Iran and hotel Tulip are located.
Facilities and spaces
The southeastern part of the park is designed like a Japanese garden and it has the fountain and spiral rivulets. In the North streets of the park, you can see landscaping chess tables. Sports fields of  Park contains:
Basketball and volleyball courts in the North part of the park. There are  Center for Puppet Theatre , a library under the Institute for the Intellectual Development of Children and Young Adults and a mosquito in this park .
There are the variety of  sculptures and statues in the park that the celebrated of  them are  for Khayyam and  Biruni.
Khayyam statue is the work of  Hasan Siddiqui that is made in Italia in 1351 to the order of the National Monuments Council . After moved this sculpture to Iran it was transported to Laleh park and it is now in the mood that everyone can see it. After that, it was renovated many times by Fereidun Sediqi.